Welcome to
Millennium Home Health Care, Inc.
Home health care is serious business. The quality of support provided to clients can affect the progress of his or her recovery. When you really need home health care, a client should not have to compromise the quality of healthcare received from second string home health companies lacking years of experience . At Millennium Home Health Care, Inc., your choice is secure and your health is ensured.
Millennium Home Health Care, Inc. is a home health service agency primarily serving clients aged 65 and older. We currently cover Wayne, Oakland and Macomb counties.
For many years, we have prided ourselves with a team of dedicated nurses, therapists and other health care providers. We hope to continue this legacy and provide our services in the hopes of enhancing the lives of individual clients and families.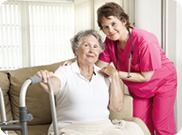 At Millennium Home Health Care, Inc., we place the same importance on recovery as you and are committed to alleviating any discomfort you have during your recovery process. Whether it is a disability, transitioning to old age, or chronic illness – our staff will be more than happy to help you cope with your situation.
Our experience has allowed us to innovate the way home health care is conducted in Michigan. We can attest to the excellence of our services by the numerous commendations we have received. To us, nothing is better than the look of gratitude expressed by satisfied clients for a job well done.
If you want the best in health care and, quality that stands above the rest, look no further than Millennium Home Health Care, Inc. For more information consult our website or call our hotline at 1-888-671-7711.
Millennium Home Health Care, Inc. – the company that has QUALITY as its byword.